Our product
COVID Semantic Map - One App to help navigate the entire COVID-19 research database
To help experts easily navigate between COVID-19 papers and distill the required knowledge, Silk Data engineers and data scientists developed a free application driven by a proprietary AI technology.
What if you could turn months of studying COVID-19 research papers into days and hours?
The number one problem worldwide – the COVID-19 disease caused by severe acute respiratory syndrome coronavirus 2 (SARS-CoV-2) – is yet to be fully discovered and well understood by scientists, experts, and policy makers. The recently released COVID-19 Open Research Dataset (CORD-19) is one huge step forward to studying the virus and developing the universal treatment but such vast amount of unstructured information creates additional challenge for scientists and health workers. Consisting of more than 33 000 full text research papers and having over 1 Gb of text in total, studying such database would take a lifetime of a normal person.
The new way of representing knowledge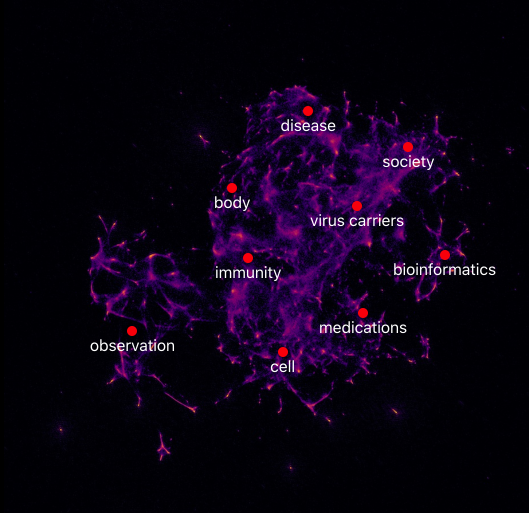 The new way of representing knowledge
The goal of the COVID semantic map is to assist experts with studying COVID research papers by providing a navigable and structured 3-D representation of the entire collection of documents. Utilizing a proprietary AI/NLP-based technology the COVID map enables to see how different documents, topics, fragments, and keywords are semantically inter-connected and co-related, which provides a breakthrough approach to studying the COVID problem.
Discover relations between terms and topics in seconds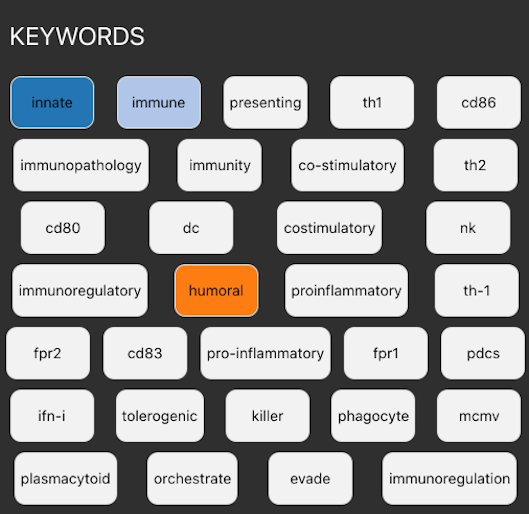 Discover relations between terms and topics in seconds
Our technology automatically identifies relations between texts, maps them to semantically related keywords and then generates a visual representation of data. To display relations, COVID semantic map generates 'clots', or dense areas in the map, associated with the key topics of any document in the collection. The process is almost entirely automated, while it is necessary for a human expert to categorize generated topics, naming them for easier navigation and collaboration with other team members.
The COVID semantic map provides the following features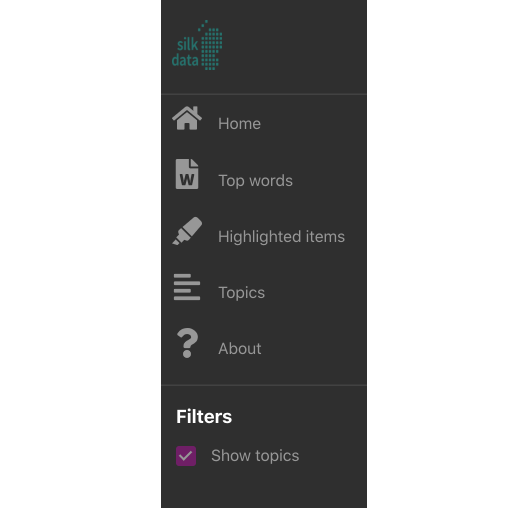 The COVID semantic map provides the following features
Visual exploration of the text collection, study of keywords and related documents from the CORD-19 data set associated with a selected area on the map.
Zooming into any selected area of the map, to drill down to more narrow representation of the subject area, with keywords and co-relations between them.
Selection of keyword, to see its usage in different contexts and visually represented by different map regions.
Navigating to the full text of a corresponding scholarly paper in the PubMed Central reader or on the publisher's web site.
See how words are used in various contexts
See how words are used in various contexts
The common problem related to all known approaches to studying based on keywords and topic analysis is when one term is used in different contexts. Our semantic map provides the possibility to study keywords in specific contexts – that's why the same keyword may appear in several places on the map. It can help experts find quite unexpected relations between keywords and corresponding documents, just by examining the highlighted areas.
The important feature of the COVID semantic map is that it displays keywords which might not be explicitly used in the document, but which have semantic proximity to a core text.
Some additional applications of the COVID semantic map
Versatile search over documents, considering the word contexts (topics), a solution for CORD-19 texts is currently in preparation.
Semi-supervised categorization of documents.
Highlighting different topics in a document, helping experts to read it faster and have a deeper analysis.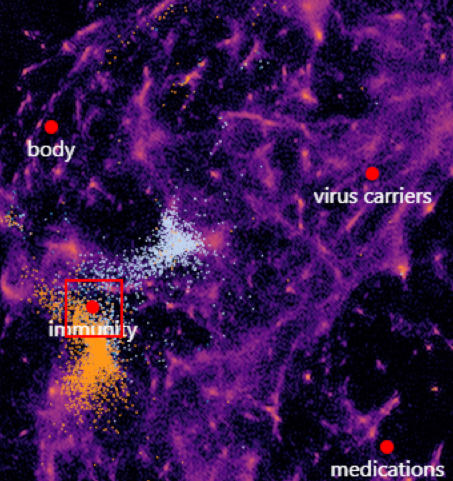 Do you have a question, request or collaboration proposal related to the COVID semantic map?
We encourage all interested parties: researchers, institutions, publishers or biomedical companies to contact Silk Data with inquiries or collaboration proposals.